Profile

#832380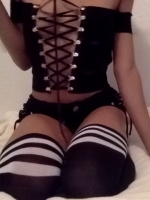 3
Lets Play
Im Sweet n Bubbly and i love being playful Lets keep each other company and have some fun!
GenderFemale

OrientationStraight

LocationUnknown

EthnicityMulti-ethnic

BodyPetite

Eye ColorBrown

Hair ColorBrown

BustA Cup Size
Spoken Languages: English

I am interested in: Casual Encounters, Just Friends, Lingerie, Secrets and Confessions, Softcore Chat

My Roles: Babysitter, Cheerleader, College Girl, Girl Next Door, School girl

My Secrets: Littles
My Scorecard
Average Call Rating:
5.00
out of 5
Answered Calls:
87%
Answered Messages:
41%
Favorited By:
7
Members
Personality Score:
10.00
out of 10
Most Common Call Reasons:
No Data to Show at this time
A call with me is frequently described as:
No Data to Show at this time
Callers often describe me as:
No Data to Show at this time
My most mentioned special talent is:
No Data to Show at this time
My Recent Reviews
MrRomance17

Every time is fantastic with her!!! She deserves 100 stars!!!

MrRomance17

Once again, she is sweet, sexy, and just so very nice!!!

MrRomance17

This young woman is truly amazing!!! I will be calling back soon!!!
My Recent Posts
I don't have any posts yet.
My Availability Schedule
I don't have a set schedule.
My Store
I am not currently selling any digital products.