Profile

#563550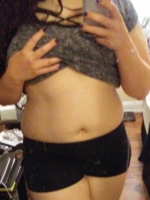 5
I'm your pain slut
I can take a lot of pain. I need it. I crave it. Let it all out on me. Be as aggressive as you need to be, my body is yours to abuse. Call me a slut, a whore, a cunt. Because for you, that's exactly what I am.
GenderFemale

OrientationBisexual

LocationNY

EthnicityMulti-ethnic

BodyCurvy

Eye ColorBrown

Hair ColorBlack

BustC Cup Size
Spoken Languages: English

I am interested in: All Topics, Anal Sex, Anything goes, Cum Swapping, Dom/Sub

My Roles: Goth/Punk, Kinky, Slut, Submissive, Teacher

My Secrets: BDSM, Bondage, Discipline, Humiliation, Kink, Spanking
My Scorecard
Average Call Rating:
5.00
out of 5
Answered Calls:
97%
Answered Messages:
75%
Favorited By:
20
Members
Personality Score:
10.00
out of 10
Most Common Call Reasons:
No Data to Show at this time
A call with me is frequently described as:
No Data to Show at this time
Callers often describe me as:
No Data to Show at this time
My most mentioned special talent is:
No Data to Show at this time
My Recent Reviews
BBCMASTER

one of the best calls i've ever made

brewcrew4444

Awesome. Just what I needed when I needed it.
My Recent Posts
come take out your frustration on me baby <3
My Availability Schedule
I don't have a set schedule.
My Store
I am not currently selling any digital products.