Profile

#1052414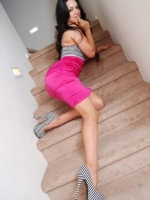 1
Kinky GFE Model of Your Dreams
Hello My name is Mona Minx (Miss Mona for my boys) and I can be your Masseuse, Mommy, & your sexy hot runway model GF! I play for the submissive side of the kink spectrum, I feel like it keeps me on my knees! (my favorite position ?). I'm more of a natural beauty when in submission, it always takes me over the edge...The Submissive in me loves nasty Taboo family time! I really love having fun with multiple brothers, and even uncles, but nobody can beat quality time with your dad! Yum, Yum! I love being a cock pleaser and love being praised for it. I just love creampies (no birth control), preforming oral, and threesomes! I prefer the gentler side of submission... But I have love for my boys as well and love to nurture them in anyway I can. ?I love to give men just fantasy talk with or without roles being played. I'm very versatile... Let's cum talk together.
GenderFemale

OrientationStraight

LocationUnknown

EthnicityCaucasian

BodyPetite

Eye ColorBrown

Hair ColorBlack

BustC Cup Size
I am interested in: Anything goes, Big Cocks, Fantasies, Secrets and Confessions, Someone much older or younger

My Roles: Babysitter, Housewife, Model, Spoiled Rich Girl, Submissive

My Secrets: Breast Play, Cum Swapping, Dildo Play, Food, Smoking
My Scorecard
Average Call Rating:
5.00
out of 5
Answered Calls:
87%
Answered Messages:
100%
Favorited By:
7
Members
Personality Score:
10.00
out of 10
Most Common Call Reasons:
No Data to Show at this time
A call with me is frequently described as:
Callers often describe me as:
No Data to Show at this time
My most mentioned special talent is:
My Recent Reviews
Takeshi84

Definitely indulges on your naughty fantasy.
My Recent Posts
I don't have any posts yet.
My Availability Schedule
I don't have a set schedule.
My Store
I am not currently selling any digital products.