Profile

#764731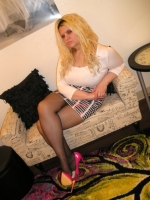 6
Get Ready to be My Mindless Fuck. . .
I know just how to tease you & make your cock constantly crave me. I'll get deep in your head & turn you into my mindless fuck.
GenderFemale

OrientationBisexual

LocationAZ, US

EthnicityCaucasian

BodyCurvy

Eye ColorBrown

Hair ColorBlonde

BustC Cup Size
Spoken Languages: English

I am interested in: Fantasy, Feet, Instructional, Shoes/Heels, Stocking/Hoseiry

My Roles: Femdom, Party Girl, Spoiled Rich Girl

My Secrets: Cuckolds, Femdom, Financial Domination, Foot Worship, Humiliation
My Scorecard
Average Call Rating:
4.67
out of 5
Answered Calls:
100%
Answered Messages:
61%
Favorited By:
11
Members
Personality Score:
10.00
out of 10
Most Common Call Reasons:
A call with me is frequently described as:
No Data to Show at this time
Callers often describe me as:
My most mentioned special talent is:
My Recent Reviews
Pete156

Absolute best on talktome

Andersonmd

Amazing humiliated me but cut short by my wife walking in.. will def call back again
My Recent Posts
I don't have any posts yet.
My Availability Schedule
I don't have a set schedule.
My Store