Profile

#934050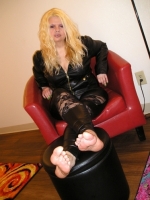 5
You Can't Stop Staring at My Perfect Feet. . .
My sexy feet get your cock so hard. Get on your knees & Worship them.
GenderFemale

OrientationBisexual

LocationAZ, US

EthnicityCaucasian

BodyCurvy

Eye ColorBrown

Hair ColorBlonde

BustC Cup Size
Spoken Languages: English

I am interested in: Feet, Instructional, Role Play, Shoes/Heels, Stocking/Hoseiry

My Roles: Femdom, Party Girl, Spoiled Rich Girl

My Secrets: Femdom, Fetish, Financial Domination, Foot Worship, Humiliation
My Scorecard
Average Call Rating:
4.20
out of 5
Answered Calls:
100%
Answered Messages:
83%
Favorited By:
10
Members
Personality Score:
10.00
out of 10
Most Common Call Reasons:
Instruction & Fantasy/Role Play
A call with me is frequently described as:
Callers often describe me as:
My most mentioned special talent is:
My Recent Reviews
john181183

Fantastic call 10/10 would recommend.

Robbyd77

She had me tie my iPhone charger cable as tight as I could around my balls then the other end around a door knob. I was do turned on and in so much pain at the same time I dropped the phone. Looking for stalkings or panties or shoe strings and calling back
My Recent Posts
I don't have any posts yet.
My Availability Schedule
I don't have a set schedule.