Profile

#806360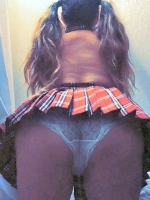 69
Sweet southern sub needs Master
Sweet southern sub needs Master. I am single and I live to please. You will find me to be very willing and open to humiliation, cum dumping, quickies, oral, anal, extra kinky, and more. I have a sexy, soft voice so I can't get loud, but I beg good. I am ready and willing to serve you Sir.
GenderFemale

OrientationStraight

LocationUnknown

EthnicityCaucasian

BodyCurvy

Eye ColorBrown

Hair ColorBrown

BustD Cup Size
Spoken Languages: English

I am interested in: Anything goes, BDSM, Dom/Sub, Gangbangs, Rough Sex

My Roles: Girl Next Door, Kinky, Maid, Slut, Submissive

My Secrets: Breast Play, Facials/Bukkake, Humiliation, Squirting, Submissive
My Scorecard
Average Call Rating:
4.97
out of 5
Answered Calls:
100%
Answered Messages:
31%
Favorited By:
110
Members
Personality Score:
9.89
out of 10
My Recent Reviews
mauilee

Excellent sub, who wants, needs, and is looking for more of the lifestyle. Really enjoyed our conversation. will definately be calling again

kswyldnytes1

She is a great role play partner and very receptive to any taboo you might have.

oldcowboy55

Daddy's going to give you all the encouragement you'll need to follow your dreams, slut ! :) Choke it, fuck it, eat it...then abuse it !!
My Recent Posts
I don't have any posts yet.
My Availability Schedule
I don't have a set schedule.