Profile

#870539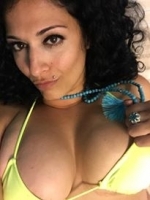 11
Everything's Hotter Down South, Ya'll <3
Extra Kinky Southern Slut Ciao, xxSophieSinsxx
GenderFemale

OrientationStraight

LocationFL, US

EthnicityMiddle-Eastern

BodyVoluptuous

Eye ColorBrown

Hair ColorBlack

BustF Cup Size
Spoken Languages: English

I am interested in: Anal Sex, Bareback Sex, Gangbangs, Sugar Daddy, Web Cams

My Roles: Girl Next Door, Kinky, Party Girl, Slut, Submissive

My Secrets: Cum Swapping, Heels/Shoes, Squirting
My Scorecard
Average Call Rating:
4.09
out of 5
Answered Calls:
80%
Answered Messages:
72%
Favorited By:
35
Members
Personality Score:
8.33
out of 10
Most Common Call Reasons:
A call with me is frequently described as:
Callers often describe me as:
Aggressive, Creative & Sarcastic
My most mentioned special talent is:
My Recent Reviews
ArsenalGunner25

Told her what was up and she went to work on making me cum

USMCMAN15

WOW! I had SUCH a great time with her...I hadnt called her for quite abit and wont make that mistake again...A++++ call...Cant wait for next time.

BobbyRiley1994mailcom

She's the best call ever

Thank ya, Sugar!!!!! Can't wait to chat with ya again! MUAH <3

Robby

Very sexy

Thank ya, Sugar! Can't WAIT to find out what's in store for ROUND 2 ;)
My Recent Posts
Just need some company while I find the PERFECT slutty outfit to wear... webcam's on ya'll ;)

Sooooo ready for this hhhhot sticky Friday night down South... going out to get in some trouble...
My Availability Schedule
I don't have a set schedule.