Profile

#870539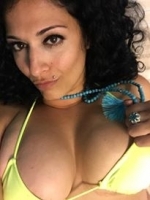 14
Everything's Hotter Down South, Ya'll <3
Extra Kinky Southern Slut


Ciao,
xxSophieSinsxx
My Scorecard
Average Call Rating:
4.21
out of 5
Answered Calls:
82%
Answered Messages:
75%
Favorited By:
57
Members
Personality Score:
8.56
out of 10
Most Common Call Reasons:
A call with me is frequently described as:
Callers often describe me as:
Aggressive, Creative & Sarcastic
My most mentioned special talent is:
My Recent Reviews
mwillnc

So freakin sexy! I gave it to her and she gave it right back. A new favorite!

ArsenalGunner25

Told her what was up and she went to work on making me cum

USMCMAN15

WOW! I had SUCH a great time with her...I hadnt called her for quite abit and wont make that mistake again...A++++ call...Cant wait for next time.

BobbyRiley1994mailcom

She's the best call ever

Thank ya, Sugar!!!!! Can't wait to chat with ya again! MUAH <3
My Recent Posts
it's my BIRTHDAY, ya'll! help me celebrate all day! TIPS, TRIBUTES, AND BONUSES are appreciated and encouraged :)
My Availability Schedule
I don't have a set schedule.