Profile

#387424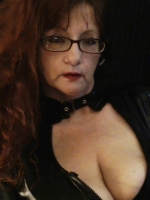 17
Miz Peppa - - Life Begins at the End of Your Comfort Zone!
An intelligent and sophisticated woman who adores men and thrives on making them adore her in return. I am beyond any fantasy you can imagine because I am REAL. . . . and I am waiting for your call!!! WHO SHE IS: Naughty and Flirtatious Buxom Raven Haired Siren! My lovers enjoy my ample breasts and sumptuous ass You scream in pleasure induced by my wild erotic passion!! Very accommodating and Open Minded Flirt . . . . Be fearless . Come and tell me what you fantasize about . and are afraid to ask for! Eventually you will beg to tell me everything!! WHAT SHE DOES BEST: From tame to taboo. Willing to go as far as your fantasy and imagination takes us! Tell me what you desire. The naughty things you are afraid to tell anyone else. Let me take you to where you know you are dying to go!!! Are you ready for me?!
GenderFemale

OrientationStraight

LocationUnknown

EthnicityCaucasian

BodyVoluptuous

Eye ColorBrown

Hair ColorRed

BustDD Cup Size
Spoken Languages: English

I am interested in: All Topics, Anything goes, BDSM, Exhibitionism, Watching Adult Videos

My Roles: Femdom

My Secrets: CBT, Cuckold, Electro Play, Feminization, Financial Domination
My Scorecard
Average Call Rating:
4.94
out of 5
Answered Calls:
76%
Answered Messages:
97%
Favorited By:
28
Members
Personality Score:
9.45
out of 10
Most Common Call Reasons:
No Data to Show at this time
A call with me is frequently described as:
No Data to Show at this time
Callers often describe me as:
No Data to Show at this time
My most mentioned special talent is:
No Data to Show at this time
My Recent Reviews
TheBigSearch

Very hot taboo roleplay

finding59self

Had to pry things out of her

tdwalk3r

What a great call! I'll definitely be calling again.

Liltimie

Treats me like naughty boi ooooooooooooooo
My Recent Posts
I don't have any posts yet.
My Availability Schedule
Monday

08:00 AM - 10:00 PM CST

Tuesday

08:20 AM - 11:10 PM CST

Wednesday

08:15 AM - 11:55 PM CST

Thursday

08:35 AM - 01:00 AM CST

Friday

08:50 AM - 12:00 PM CST

Saturday

08:45 AM - 12:00 PM CST

Sunday

08:40 AM - 06:25 AM CST