Profile

#633779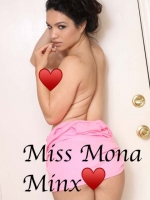 13
New To The Kink World - Light Weight Amateur
Hello My name is Mona Minx and I can be your Masseuse! I play for the submissive side spectrum, I feel like it keeps me on my toes! I'm more of a natural beauty when in submission, it always takes me over the edge. . . The Submissive in me loves nasty Taboo family time! I really love having fun with multiple brothers, and even uncles, but nobody can beat quality time with your dad! Yum, Yum! I love being a cock pleaser and love being praised for it. I just love creampies (no birth control), preforming oral, and threesomes! I prefer the gentler side of submission. . . I love to give men just fantasy talk with or without roles being played. I'm very versatile. . . Let's cum talk together.
GenderFemale

OrientationStraight

LocationUnknown

EthnicityCaucasian

BodyPetite

Eye ColorBrown

Hair ColorBlack

BustC Cup Size
Spoken Languages: English

I am interested in: Bareback Sex, Fantasies, Masturbation Instruction, Secrets and Confessions, Someone much older or younger

My Roles: Housewife, Model, Romantic, Spoiled Rich Girl, Submissive

My Secrets: Cum Swapping, Dildo Play, Smoking
My Scorecard
Average Call Rating:
4.92
out of 5
Answered Calls:
100%
Answered Messages:
70%
Favorited By:
62
Members
Personality Score:
9.60
out of 10
Most Common Call Reasons:
Fantasy/Role Play & Girlfriend Experience
A call with me is frequently described as:
No Data to Show at this time
Callers often describe me as:
My most mentioned special talent is:
My Recent Reviews
rocket7protonmail

Best phone call I have had on here ever! Seriously, this girl listens for hints, plays the part well, and really gets into the fun. I will be calling back again and again and again!!!

Jerseyshoredave

She was fun... will call her again!

naztynel

Mistress Mona was off the chain . A must call

Thanks babe, long time no talk... I remember our first conversation with you on the couch. ;)
My Recent Posts
Hmmm... Just got done with some hot sexting with a nasty daddy. I really love when a man works out the slut in me!

Aunt flo was in town but I'm back in action! I'm just ready to have a nice deep convo will a sweet guy. <3

I'm in the shower feeling frisky... Hoping Daddy will see his naked daughter worshiping a big thick 9 inch long cock WWYD?

Ready to learn my role as a submissive cock whore loving slut... Feeling the need to be coaxed into doing something reckless...
My Availability Schedule
Monday

09:00 AM - 10:30 PM EST

Tuesday

09:00 AM - 10:30 PM EST

Wednesday

09:00 AM - 10:30 PM EST

Thursday

09:00 AM - 10:30 PM EST

Friday

06:00 PM - 11:30 PM EST

Saturday

09:00 AM - 10:30 PM EST

Sunday

09:00 AM - 03:00 PM EST