Profile

#559920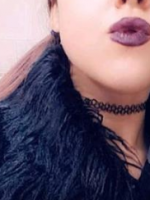 42
Your virtual GFE at your service for all your needs
**(For Skype Calls I enjoy Role-playing showing my tits and watching you masterbate for me), my pussy is hairy, I enjoy teasing . . Stroke it for me, I want to see you bust a load for me Daddy. Give me all your cum!
GenderFemale

OrientationBisexual

LocationOrlando, FL, US

EthnicityLatino

BodyFew Extra Pounds

Eye ColorHazel

Hair ColorBlack

BustD Cup Size
Spoken Languages: English

I am interested in: All Topics, Alternative lifestyles, Anal Sex, Anything goes, Just Friends

My Roles: Bimbo, College Girl, Femdom, Teen (over 18), Virgin

My Secrets: Bondage, Fetish, Orgasm Denial/Control, Sploshing (wet & messy), Submissive
My Scorecard
Average Call Rating:
4.86
out of 5
Answered Calls:
96%
Answered Messages:
80%
Favorited By:
88
Members
Personality Score:
9.58
out of 10
My Recent Reviews
codeine1980

Minx Doll is a cool ass person, ya'll.

standupcock

A bundle of hotness!!!

IntoCEI

Beautiful, sweet, and accommodating. A must-call, and I will be calling again.
My Recent Posts
I don't have any posts yet.
My Availability Schedule
Monday

09:30 AM - 07:05 PM EST

Tuesday

09:30 AM - 05:00 PM EST

Wednesday

09:30 AM - 04:00 PM EST

Thursday

09:30 AM - 08:00 PM EST

Friday

09:30 AM - 02:00 AM EST

Saturday

09:30 AM - 04:05 AM EST

Sunday

Unavailable