Profile

#279896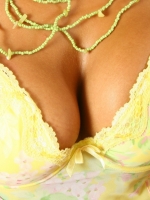 14
Where your Imagination comes to life
Hola papi, I want to be your phone sex fantasy! I love all things hot, exciting, sexy, and nasty and I promise to satisfy your appetite for the same. I want to live out all of your fantasies with you. I especially get off on kinks like submission, dominant, spanking, role play, cum play, panty boy, anal, and those are some of the mild ones. I enjoy giving and taking orders and doing all the things no woman has ever done to you or for you before. I'll fuck your friends and make you watch, seduce you while your boss is just outside your office, and make every outing we take together fun and exciting. Your wish is my command. And if you are a submissive man, believe me that I know from experience what you yearn for, and I'll keep you squirming and begging me in order to prove you're worthy of my attention. If you're a really good boy, I may let you lick my pretty little toes. If Blackmail is your fantasy, baby I am the best. I will make you do things you cant even imagine. Be a good boy, or else! There is no judgement here, I know what you need and how to take care of your needs. Call me and let me show you what a real woman can do for you. Don't keep me waiting.
GenderFemale

OrientationStraight

LocationFL

EthnicityLatino

BodySlender

Eye ColorHazel

Hair ColorBrown

BustD Cup Size
Spoken Languages: English, Spanish

I am interested in: Anything goes, Fantasies, Panties, Public Sex, Secrets and Confessions

My Roles: Babysitter, College Girl, Kinky, School girl, Slut

My Secrets: Cuckold, Dildo Play, Feminization, Humiliation, Submissive
My Scorecard
Average Call Rating:
5.00
out of 5
Answered Calls:
96%
Answered Messages:
96%
Favorited By:
20
Members
Personality Score:
10.00
out of 10
Most Common Call Reasons:
No Data to Show at this time
A call with me is frequently described as:
Callers often describe me as:
My most mentioned special talent is:
My Recent Reviews
PPWabbit

luv to play with Yelow MmyDrst

Thank you baby, you knew exactly what I needed!

luckyjoe

THE BEST!!!!

Gracias amor, cant wait for the next call, hopefully uninterrupted!

incestmommiescock

WHAT A GREAT CALL SHE IS A GREAT STORY TELLER SHE TAKES YOUR ROLEPLAY AND SLOWLY BUILDS YOU UP UNTIL YOU CLIMAX.SHE IS SOMEONE THAT MEN SHOULD CALL.I WILL AGAIN.TY FOR IT GORGEOUS XXXXXOOOOOOOO.LOVE YOUR LITTLE BOY MOMMIE

What a great role play to actual call baby!!! I hope we can continue right where we left off......until next time, sweet dreams

PPWabbit

Best role Plays

Love my Betsy Wetsy!!! Such a good little girl!!!!
My Recent Posts
Anyone need to be taught a lesson, or two???
My Availability Schedule
Monday

12:00 AM - 12:00 PM EST

Tuesday

12:00 AM - 12:00 PM EST

Wednesday

12:00 AM - 12:00 PM EST

Thursday

12:00 AM - 12:00 PM EST

Friday

12:00 AM - 12:00 PM EST

Saturday

12:00 AM - 12:00 PM EST

Sunday

12:00 AM - 12:00 PM EST
My Store
I am not currently selling any digital products.